Experiences at Klaserie Drift
Whether you are into animals, birds, relaxation or just a family escape, a stay at Klaserie Drift has something for everyone. Every morning and evening you will delve deep into nature on an exciting game drive or walking safari. During the day you can book a treatment with our qualified spa therapist and families can enjoy a fun-filled kids activity after breakfast. We also have our specialist safari packages, including a Yoga and Wellness Safari and a Birding Safari available for exclusive group bookings.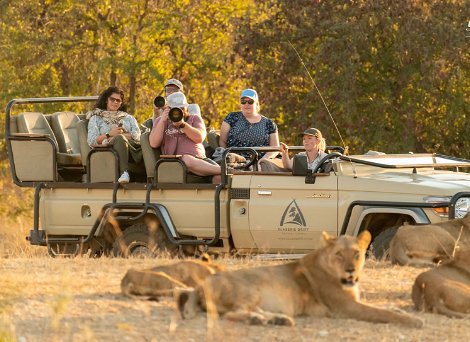 Game Drives
Interpretive morning and afternoon game drives are conducted by our qualified and experienced guides who are intensely passionate about the bush. Weaving intriguing stories with their vast knowledge of the flora and fauna, every drive is a unique opportunity to better understand this wildest of places. As well as the continual search for our iconic animals, your guide might share an insight into the local history and conservation issues, help to discover an appreciation for the myriad of insects, birds and trees of the area or even introduce you to the subtle art of tracking. Rekindle your sense of adventure and love of nature like never before.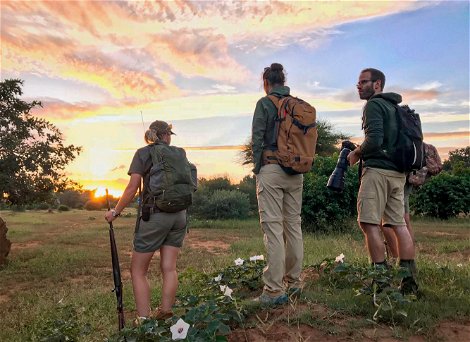 Walking Safari
Feel the sand beneath your feet as you explore the African bush from an entirely different perspective. Without the constant hum of an engine you will begin to notice all the sounds of the bush, from the serenading songbirds to the crackle of branches betraying elephants feeding in the distance. With our qualified walking guides, you will discover a sense of true connection with nature and you may even get the chance to view our larger game on foot. Due to availability of guides, a walking safari cannot be guaranteed if booked upon arrival. It is therefore strongly recommended to request your walk in advance.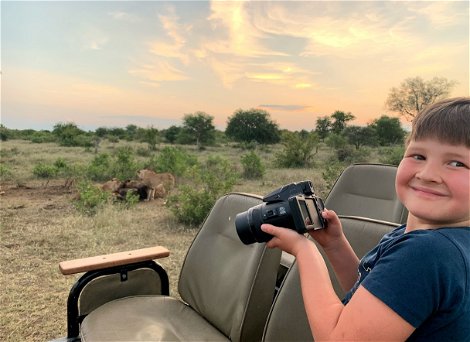 Family Safaris
It's an all-round family experience that makes taking a safari with children a reality. With flexibility around accommodation and our dedicated, spacious family unit with inter-connecting rooms we give your children the freedom to have fun and explore while remaining close at hand. The lodge boasts a host of different board games, DSTV, a library full of books as well as the all-important infinity pool to ensure your children find something to keep them busy. Furthermore, you child will get to participate in our exclusive educational Kidz Club - lead by our qualified field guides - providing fun, interactive and nature-based activities while the adults get some much needed rest!
Please note we accept children from 6 years and older.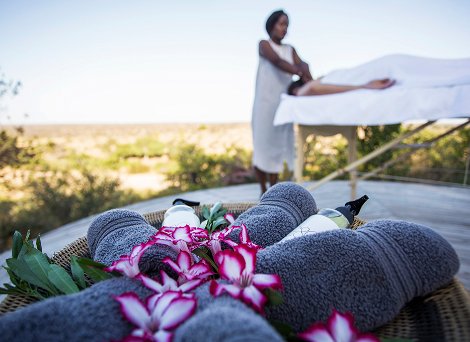 Spa
Indulge in a therapeutic massage or treat yourself to a luxury pedicure to the backdrop of the beautiful African bush. Our professional therapists are on hand with a full range of spa treatments and therapies. Why not request our Spa Brochure and plan your perfect stay before you arrive? Then it's time to just let go and relax…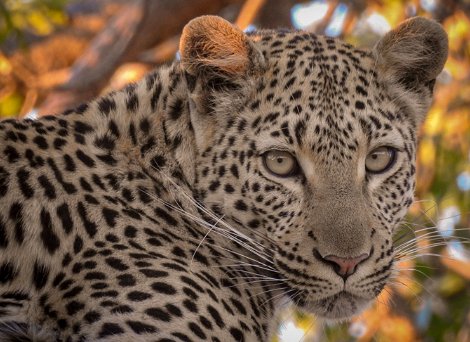 Private Guided Safari
Enhance your experience by opting for a private safari vehicle and guide, affording you the luxury of a safari tailored specifically for you. Whether you're into birds or buffalo, our guides will do their utmost to create your perfect safari experience, free from all the normal time constraints. From special sundowner locations to late night drives for some astro-photography, there are few limitations with this option! Our private guided safaris are ideal for families, avid photographers and birders that may have specific requirements or anyone looking for the ultimate safari experience. Also available in French, Spanish and German upon request. 
Please note this service is only available with the booking of a private vehicle.
T&C's apply, please enquire with our reservations office on the costs involved.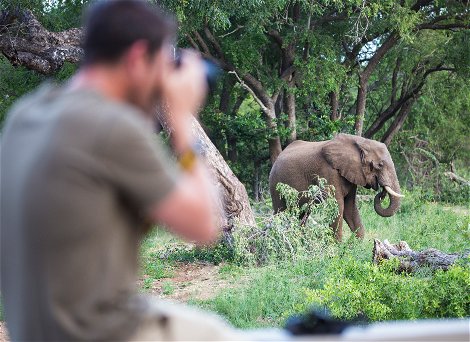 Photographic Safari
Take your photography to the next level by pre-ordering a professional wildlife camera and lens. We use a highly reputable third party to ensure the best quality equipment and will organise it to be delivered ready for your arrival at the lodge - no hassle necessary! Both Canon and Nikon DSLR packages are available - please enquire in advance to ensure availability. Already got your own gear? Why not enhance your skills by indulging in a privately-guided safari with a locally renowned wildlife photographer. With their professional knowledge at your disposal, inclusive skills workshops and real-time feedback out in the field you will be sure to get that shot of a lifetime.

Please note this service is only available with the booking of a private vehicle.
T&C's apply, please enquire with our reservations office on the costs involved.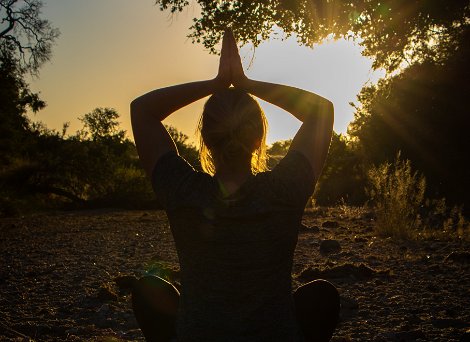 Yoga & Wellness Safari
Whether you are a beginner or experienced yogi, there is no better place to relax and revive your mind, body and spirit. Enjoy our 3-night Yoga and Wellness Package as you discover a sense of tranquility and well-being in the serene wilderness of the Klaserie Private Nature Reserve.
Available on an exclusive use basis only.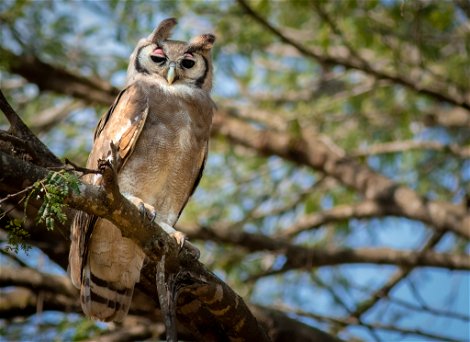 Birding Safari
Explore the stunning Klaserie Private Nature Reserve in the pursuit of up to 300 different bird species, all under the direction of a specialist bird guide. Take birding walks and drives at times to suit your group and learn how to quickly ID a bird from its call or differentiate between those pesky LBJs.
Please note this service is only available with the booking of a private vehicle.
T&C's apply, please enquire with our reservations office on the costs involved.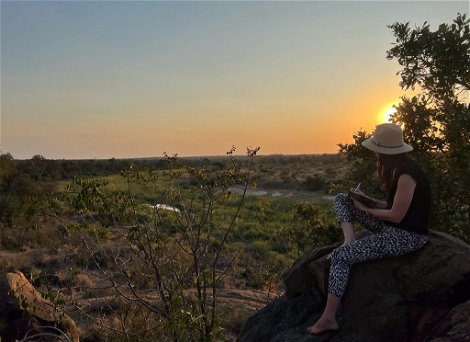 Creative Writing Retreat
Allow yourself to explore deep within as you delve into the wilderness that surrounds you, expansive views, wide open spaces and close ups with Africa's wildlife. This 3 day retreat hosted by a Professional Writing Mentor and Theatre Director with over 30 years experience leading the Arts and British Council writing performance workshops is sure to awaken the senses and uncover your creativity.
Only available on an exclusive use basis for groups on set dates.