The lowdown on walking safaris - everything you need to know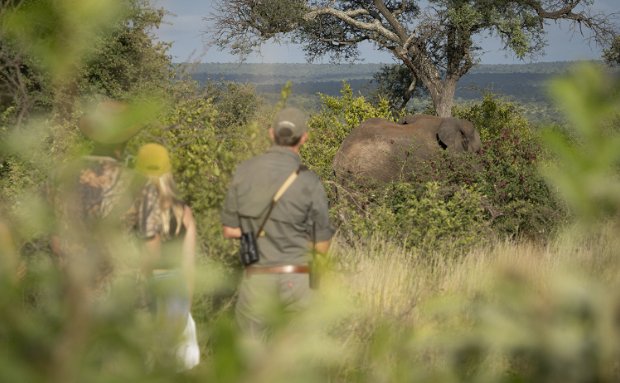 One of the most common questions we get asked by our guests planning their safari is, what is the difference between a vehicle-based safari and a walking safari? Apart from the obvious – that a walking safari is on foot – there are a few other differences that it is important to be aware of when deciding on the best experience for you.
How does a walking safari work?
On a typical walking safari, there will be one or two qualified guides with rifles leading your walk. Legally, there can be a maximum of 8 participants on a walking safari and all must be a minimum of 16 years of age. Before you depart, your guide will explain any safety aspects that you need to know to ensure you are fully prepared, after which you will depart either directly from the lodge or drive to a different area to begin your walk elsewhere. A walking safari typically lasts 3 hours and it is usually best to depart at first light, meaning you don't get caught walking in the heat of the African sun. Setting off, the group walks in single file through the bush, following the guides who will stop frequently to interpret plants, tracks and signs and other interesting things along the way.
What is the difference between a walking safari and a vehicle-based safari?
By their very nature, walking safaris are designed to be slower and cover less ground than a vehicle-based safari. This means there is a smaller chance of encountering dangerous game such as the "big-five". The focus of a walking safari is on experiencing the smaller things and building a genuine connection with nature, far from the sound of a car engine. A typical walking safari makes use of a network of ancient game paths, trodden for millennia by everything from rhinos and hippos to the tiniest antelope as they cross the savanna. As you slowly traverse the terrain, every sense becomes heightened. You begin to hear birdsong, leaves rustling in the trees and, if you are lucky, the soft crack of a branch signalling a nearby elephant.
 
Moving slowly, yet confidently, your guide will stop occasionally to point out some of the things often missed from a vehicle. The different tracks and signs of various animals, and how to interpret them, as well as medicinal plants and even stories of how indigenous tribes used to live and thrive in the area. You might learn basic survival tips, such as how to find water or make a rope, uncover the joy of birding or even discuss the basics of navigation – did you know, for example, that you can use termite mounds or even certain bird nests to find direction in the bush? Although the goal is not always to locate large game on a walking safari, for those looking for a genuine immersive experience in nature, it is often considered a highlight of many visitors' stay.
 
However, should an opportunity arise to safely view any of these animals – the big five are made up of elephant, lion, leopard, rhino and buffalo – then your guide will assess the situation and plan a safe approach. The aim and ethics of viewing dangerous game on foot is to observe them and withdraw without the animals ever having known you were there, hence sightings must sometimes be at a distance. That being said, there is something hugely humbling and thrilling about sharing a secret moment with these creatures without the security of a vehicle!

What do you need to know when preparing for a walking safari?
There are a couple of important things to prepare if you want to do a walking safari in the bush. Firstly, you should wear good, closed-toe shoes and neutral-coloured clothing. For the most part, browns, greens, beige and khaki work best. Black and white are not recommended as many predators see in grey-scale so these colours actually stand out most of all! The idea is to blend in and become part of nature, not to disturb it. Other things it might be worth bringing include a hat, sunscreen, binoculars, your phone (set to silent!) or camera, and – of course – some water. Your guide will bring a first aid kit and radio in case of emergencies so there's no need to worry about that.
 
Overall, a walking safari is an entirely different experience that is not for everyone. But, for those who want to truly immerse themselves in nature - to feel, smell, hear and touch it – a walking safari may be one of the best experiences you will ever have!
 
Are you interested in doing a walking safari at Klaserie Drift? As a small, intimate lodge, we do ask that you book your walking safari in advance of your stay with us to ensure that there is availability with our guiding team. To find out more, send us an email on [email protected].
Words by Emily Whiting
Photos by Roaming Media