May 2021 Sightings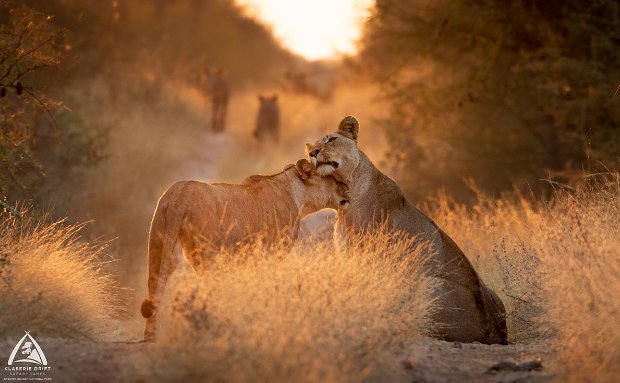 Although the weather may have taken a predictable, wintry turn, the animals remain as unpredictable and exciting as ever. May was a month filled with plentiful lions, charismatic African wild dogs and a surprising bounty of chameleons! Keep reading to find out exactly which characters have been delighting our guests this month.
The chilly winter mornings have finally settled in and our early morning safaris now have the added luxury of toasty hot water bottles tucked underneath our game drive blankets. Nothing stops us from heading out early enough to capture the bush as she comes alive in that perfect golden light! After all, sunrise is when you have the best chance of hearing lion and leopard calling and seeing them still active before they settle into their daily slumber. 
Lions
The River pride continue to thrill with regular appearances of the females and cubs as well as a sporadic sightings of Hosi and Socha this month. 3 of the 4 eldest juveniles - now coming up for around 22 months - have spent the majority of their time away from the main pride, with just a few females for company. It is thought the mothers are preparing these youngsters for their impending journey into adulthood. The males will be departing this year to become nomadic - the most dangerous time in a male lion's life where they must both fend for themselves and avoid conflict with other lions - whereas the lone female will hopefully remain with her mother and aunties, becoming a vital part of the pride.
On one particular morning, the pride were discovered just after sunrise and we spent an incredible couple of hours with them as they searched for unsuspecting prey. They passed through ridges and valleys as we diligently followed, eventually popping out at the KD bridge where the little ones had to learn quickly what it means to be a member of the "River pride" with a rather watery crossing! Soon after, an adult female made a tense attempt on a waterbuck, missing out at the last minute. Defeated and feeling the sun's warmth rising, the pride crossed the river once more to take refuge in a grassy thicket. The next afternoon, however, their hungry bellies were finally satiated as a different young waterbuck was taken and quickly devoured, with our wide-eyed guests getting a front row seat to the feeding frenzy!
A River pride cub checks directions to camp!
Leopards
The Pale Male was a regular feature again this month, kicking May off in style after being spotted with an impala kill in an iconic rock fig tree. It is always interesting to note the change in prey habits of predators throughout the year. As the most common mammal in the Kruger, impala are on the menu for almost every medium to large predator in the bush. From April through June, the rams are competing for mating rights in what is known as the rutting season. Distracted, often in poor condition and cast out alone, the rams are extra vulnerable and become the main focus for every predator, as was the case here. Females Saseka and Manzi, as well as an exciting sighting of an unknown female - described below - rounded up our leopard sightings for May.
The Pale Male taking a drink at a local dam
African Wild Dogs
Two different packs of endangered African wild dogs moved through the property in May - a small breakaway of 7 as well as the larger, more often seen pack of more than 20 individuals. Of the larger pack, the alpha female is very heavily pregnant so we are confident she will be denning at this very moment. Time will tell whether that is close by or not - African wild dogs are notorious for easily being able to cover tens of kilometres in a day. With the lion activity so high close to Misava Camp, she would be smart to make her den a little more distant.
A very happy African wild dog
On another exciting occasion, the small pack of 7 was spotted at the local dam and, after enjoying them play and interact, guide Nick followed them as they began to hunt. Suddenly, he spotted a female leopard that hadn't yet been seen by the dogs. Knowing the danger she was in, she went flat in the grass and our guests waited with baited breath. Unfortunately, the dogs keen sense of smell and eyesight managed to detect her and they darted in her direction. Quick as a flash, she leapt out of her hiding spot and launched into a nearby tree, the pack now excitedly jumping at the base. A few tense minutes ensued with her trapped in the tree before she summoned the courage to leap one more time, dashing into a thicket and away. The dogs, hungry for a meal, quickly lost interest in their game of chase and carried on with the never-ending search for food, leaving our guests grinning and whooping with delight at such an incredible encounter.
Other highlights
As always, the iconic African elephant has been a highlight of life in the beautiful bush. Some large breeding herds have been happily munching through the dwindling greenery around Misava Camp and the Klaserie river, with many new little ones in tow to keep our hearts bursting with joy. A few substantial herds of buffalo have moved through the property earlier in the month - somehow managing to skirt past the River pride! There have also been regular sightings of the small herds of old buffalo bulls, as well as a few sightings of the elusive and threatened White rhino.
Beyond the 'Big 5' and plentiful predators of the Klaserie, there has been so many small things to marvel at and enjoy in this beautiful wilderness. As the impala rut reached its peak during the month, with the males giving their all to secure any mating opportunities before they disappear, guide Emily sat with her fascinated guests for a full 20 minutes observing the interesting behaviours and interactions between the male and females and were rewarded for their patience with a rare sighting of several mating events!
A cheeky baby hippo looking for a better view
Nocturnal creatures such as African wild cats (other than Mau!), genets, bushbabies and civets have been a joy to spot in the darkness and some special bird sightings, including violet-eared waxbills, white-faced owls and kori bustards have proven popular even with the non-bird enthusiasts. Kudu, waterbuck, warthog, bushbuck, duiker, giraffe, hippo, zebra, baboons and so much more have created a plethora of incredible game-viewing opportunities for our guests. Following the abundant rains of summer, there has even been a late showing of chameleons and snakes taking advantage of the extra food available before they go into brumation. Overall, May has been yet another incredible month in the bush and we are thankful everyday that we have the privilege to call this place 'home'.