July Sightings
Posted on Tue August 11, 2020.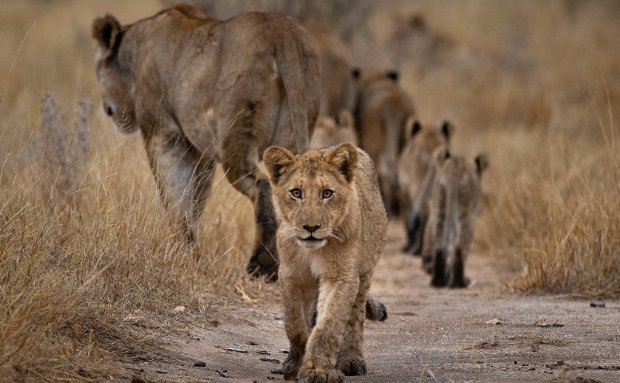 In spite of the current lockdown, July has been an action-packed month in terms of sightings here at Klaserie Drift! The big cats, in particular, have been putting in regular appearances. However, nothing prepared us for one very special sighting indeed...
BIG CATS
With the camps being closed, we haven't had as much opportunity as we would have liked to go out and explore the beautiful bush of the Klaserie. However, the times we have ventured on safari have produced some phenomenal sightings! Top of these has to be spending a whole morning with the entire River Pride - a total of 17 lions! Our two dominant males, Hosi and Socha, were joined by 8 females and the 7 young cubs, all happy and thriving. One of the females even looked heavily pregnant and another has been spotted mating so watch this space for even more tiny paws in the near future! We believe the 2 or 3 additional females may have come from the neighbouring Dundee pride to the west as, historically, these two prides have a close connection. Possibly they have joined with the River pride now there is a stable male influence in the area, or maybe they were just passing through - I guess only time will tell!
Another very exciting piece of big cat news in the area was the sighting of a coalition of cheetah. Due to the nature of our topography, cheetah are not fond of the local habitat and are a very rare sighting indeed. Imagine our surprise, then, when 5 of these feline ferraris were spotted relaxing in the shade of a bush one morning! It is only the second time in the last two years to see cheetah here so, naturally, we were all incredibly excited and completely forget to get any footage…needless to say they weren't spotted again so we might have a long wait for another chance!
Lastly from the big cat updates is the apparent settling of a new young female leopard. Most recently she was spotted enjoying the last of an impala kill in a marula tree and was even joined by the Pale Male himself. We believe she is the daughter of quite a skittish female who we saw together several times when she was a young cub. It is testimony to our guides' hard work and ethical driving that she has flourished into a relaxed cat in her independence. If we continue to get awesome sightings of her like we have been, we might need to start thinking of a new name! As for the other leopards, we have had good sightings of both the Pale Male and Saseka this month, although sadly Manzi has been absent, with recorded sightings of her spending time with her cub slightly to our north. Hopefully with her cub now getting older she will return to her original territory at the heart of our property.
SPECIAL SIGHTING
Something has definitely been in the air this month in terms of special sightings as we experienced another exceptionally rare encounter with none other than a black rhino. Known for being secretive and distinctly more rare than their larger cousins, sightings of black rhino are considered special in almost every wild reserve in Southern Africa. However, this particular large bull seemed to be relaxed around the vehicle and allowed us plenty of time to admire him before he slowly continued his path into the dense vegetation. Needless to say, we were all on a big high afterwards!
GENERAL SIGHTINGS
As is typical of winter, the elephants have been abundant. They are drawn to the last of the green vegetation and fresh water along the Klaserie river, which we so luckily have right at the heart of our property. The majority of our buffalo sightings have been small groups of old males - called 'dagga boys' - although we have seen the crossing of a few large herds in recent weeks. In addition, with the excellent grass cover for this time of year - owing to the above-average rain last summer - we are also seeing many more zebra and waterbuck hanging around which is wonderful to enjoy. Even the crocodiles and hippos appear to be flourishing with more on the property than last year. It brings us so much joy to see the bush healthy and prospering, however, it also brings a bitter sadness that we cannot yet share it with our wonderful guests. At least it is a small comfort to know the animals are here, ready and waiting, for when it is time for you all to return.