February 2022 Sightings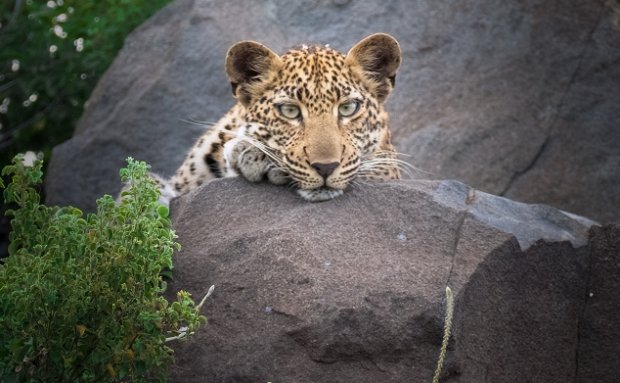 The month of love proved yet another fruitful time in the Klaserie reserve. Some cool, overcast days offered welcome respite from the summer heat and the bush is looking as lush and green as ever. From leopard kills to heavily pregnant lionesses, the cats came out in force for our fortunate guests - keep reading to discover more!
Lions
The mighty River pride and their dominant males Hosi and Socha have maintained their split with a core group of 17 females and cubs being spotted consistently throughout the month as well as a breakaway partnership of 2 females, with their respective youngsters in tow. On one hot morning, guide Emily came across the two females alone at the Misava airstrip. After a short while, the females decided to quench their thirst at a small pan before some distant zebra caught their eyes. For another hour, our guests watched as the lionesses set their trap, patiently and carefully closing the distance between them as they avoided detection. Finally, one lioness saw her moment and launched at the herd creating a cloud of dust and rush of noise and motion. The second female dove in behind her sister to flank the fleeing animals but, with luck not on their side, the zebra managed to escape to safety leaving our hungry felines disappointed. With only one in three lions hunts ending in success, it was an all too common feeling for these mothers.
Another thrilling sighting was the return of the 3 eldest sub-adult males, now close to 3 years old and moving in a tentative coalition, having seemingly adjusted well to life without the pride. In addition, one of the River pride lionesses appears to be heavily pregnant and her movements suggest she is planning on making a den anytime soon - some very exciting times ahead for our lions!
Leopards
With the exception of the indomitable Pale Male, the leopard sightings in February were dominated by a plethora of feisty females! From the Island female and her growing girl cub - Marieps - to Saseka, Xivindzi, Manzi and the slightly shy Airstrip female - the leopard ladies have been on top form this month. Manzi's young cubs are still thriving with a brief sighting of them happy and full-bellied in a huge nyala tree and her eldest daughter, Xivindzi, has been entertaining her father's company of late. One suspicion is that she has come into a first oestrus and - with no other suitable males in the area (the Pale Male sees to that) - she has sought out her father's affections. Inbreeding is not uncommon in many species, however, even if this was the reason for her recent behaviour, any liaisons are highly unlikely to produce cubs as she is still too young. Hopefully there will be some fresh genes in the area when it finally comes to it!
The airstrip female, though shy, has proven the star of the show over recent weeks with not one, but two different impala kills. Both located close to her stomping ground around the strip, our fortunate guests were able to while away the hours with this beautiful young leopard as she slowly relaxed in our company. 
African wild dogs
In true wild dog form, these charismatic carnivores flew into the area in a whirlwind of magnificent sightings before disappearing without a trace. A pack of over 25 dogs passed through several of their favourite waterholes in the area over a series of days, creating some wonderful moments for the lucky guests that saw them. Unfortunately with such a high lion population in the area of late, these clever pups know not to settle in for long and so, as quick as they arrived, they were off again to pastures unknown. Nevertheless, it was a wonderful treat to see them thriving so well!
Other sightings
With plenty of water still gushing down the Klaserie River, we have been treated once again to some beautiful sightings of swimming elephants, as well as some small herds of buffalo wandering through the reeds. The hyena den has been wonderfully active - with patience often paying off in getting to spot the growing cubs as they emerge into the open and build on their curious, playful characters. Elsewhere, the hippos recently announced a new arrival with a little one being regularly spotted at the local dam as it gets a piggy-back on mum's shoulders. Giraffe, zebra, wildebeest and the ever-present impala also continue to fill the bushveld with life in every form. Truly, it's never a dull day in Africa!
Words by Emily Whiting
Photos by Emily Whiting and Nick Smith