Family Reunions and Anniversaries in the African Bush
Posted on Wed August 10, 2022.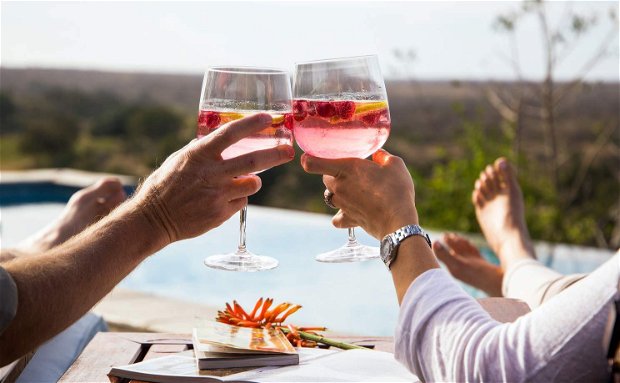 Learn about the joys of getting together with your family in one of the largest national parks in the world. Create an experience that your loved ones will remember for years and give them the sights to see that will make the experience truly remarkable. Hold your next family reunion at Klaserie Drift Safari Camps.
Are you planning a family reunion or an anniversary celebration? Why not make it the most impressive and memorable by honoring the meaning of your event at Klaserie Drift Safari Camps in Kruger National Park?
Kruger National Park was established in 1898 by President Paul Kruger and continues to be one of the world's oldest and biggest wildlife reserves.
The Kruger has distinguished itself as one of Africa's best and ultimate National Parks, not merely because of its size or antiquity but also because of its groundbreaking conservation philosophy and practice, which has paved the way for numerous wildlife sanctuaries outside of Africa.
And that makes sense considering the Kruger National Park's sixteen distinct habitats, 517 bird species, and more variety of mammals—including the Big Five—than any other reserve.
As a result, no other place offers a better safari, making it the perfect location for your family reunion or anniversary.
Family Reunions
Families frequently disperse throughout the country. People move to new towns and states searching for exciting new career prospects. A family may eventually rely on video conversations and holiday cards for updates on their formerly close relatives, aunts, and siblings. But all of that can change at a family reunion. They can reunite family members who may not have spoken in a while and make new family members feel at home.
Family gatherings can bind future generations to their ancestors. Family reunions assist children in forming identities about who they are by allowing them to hear stories about the family's past and eat dishes handed down through the generations. Children can feel a sense of connection and a feeling of belonging, even from hearing humorous stories about their parents getting into trouble as teenagers. Because of their relatives, your children will be able to identify themselves.
Making new memories while still honoring old ones is one of the most admirable aspects of a family reunion. Families can take away humorous tales, beautiful cousin adventures, and happy memories from the get-together. Making family reunions memorable creates anticipation for the next gathering of everyone eagerly.
A family gathering is usually an important event. The African bush is the ideal setting for establishing ties with loved ones. At Klaserie Drift Safari Camps, we'll ensure your unique reunion is full of memories for the entire family.
Anniversaries
Take a romantic trip to Africa to indulge your romantic side. Amazing sunsets, private dining, gourmet cuisine, and great wine provide a relaxing atmosphere that enables you to relax and rekindle your relationship with your special someone while on an African vacation. We provide specialized packages that include champagne candle-lit bubble tubs, dining al fresco, and more.
When you and your companion witness the Big Five at South Africa's Klaserie Drift, you will have cherished memories of viewing the unadulterated majesty of nature just outside your front door. You and your partner are alone, gazing at the brilliant stars.
Africa is the ideal location to celebrate your anniversary or to go away and reconnect with your partner, thanks to its alluring blend of adventure, beauty, culture, and leisure. The ideal romantic getaway is unique to each person. We are familiar with Africa and have gathered our most incredible adventures, excursions, and advice to help you create the ideal safari.
What to Do
Our local tour guides are experts in their fields, and each adds their distinctive flair to the trip, allowing them to show you the best of Africa. The way they handle their daily game drives demonstrates their undeniable devotion. The experience of watching a game will be educational, thrilling, and unforgettable for the members of your family reunion or a couple celebrating their anniversary.
Game Drives
Our knowledgeable and seasoned guides, who are deeply devoted to the bush, lead illuminating morning and afternoon wildlife drives. Every drive is a unique chance to learn more about this wildest of places as the drivers weave fascinating stories using their extensive knowledge of flora and fauna. Along with the ongoing hunt for our renowned species, your guide may also provide insight into local history and environmental concerns, assist in developing an appreciation for the region's numerous insects, birds, and trees, or even teach you the subtle art of tracking. Bring your spirit of adventure and passion for nature back to life.
Walking Safaris
Explore the African wilderness from a new angle as you feel the sand beneath your feet. You will start to hear all the noises of the jungle without the continual hum of an engine, from the lulling songbirds to the cracking of branches indicating elephants feasting in the distance. With the help of our knowledgeable walking guides, you'll feel a genuine connection to nature and perhaps even get the opportunity to see some of our larger wildlife up close. Planning your walk is highly advised to secure guide availability.
Family Safaris
It's a multifaceted family adventure that makes taking a safari with kids possible. We allow your kids to have fun and explore while still being close by, thanks to our accommodating flexibility and our dedicated, roomy family unit with connecting rooms. The resort has a variety of board games, DSTV, a library stocked with literature, and the crucial infinity pool, guaranteeing your children will have plenty to do. A licensed instructor and a field guide will be in charge of our unique Kidz Club, which offers fun, interactive, and outdoor activities while the adults get some much-needed relaxation for just R150 per child daily. Kidz Club is an adventure you won't want to miss during your family reunion.
Spa
Enjoy a relaxing massage with your significant other, or spoil yourself with a spa pedicure as the gorgeous African bush serves as your backdrop. Our qualified professionals offer a wide selection of spa treatments and therapies. Requesting our Spa Brochure would be a great way to organize your ideal family reunion or anniversary before you come.
Guided Private Safari
By choosing a private safari vehicle and guide, you may enhance your experience and enjoy the luxury of a customized safari. Our guides will make every effort to design your ideal safari experience, free from all the typical time restraints, whether you're interested in birds or buffalo. There aren't many restrictions with this option, from exceptional sundowner sites to late-night drives for some astrophotography! Families, serious photographers, birders with special needs, and anyone seeking the pinnacle of the safari experience will find our private guided safaris ideal. On-demand in German, French, and Spanish as well.
Dining
Taste cuisine that is created in the African way, with passion by our in-house chefs. Most of our fresh produce is grown in our own greenhouse, and all of the components are locally sourced. Every day, fresh bread, rusks, and biscuits are home-baked. The inspiration for the meals comes from the chefs' unique flare and years of experience working in five-star restaurants domestically and abroad. Every meal is an exquisite culinary experience, from intimate dinners to grand adventures beneath the stars.
Start Planning Your Family Reunion or Anniversary Today
Everyone can enjoy a visit at Klaserie Drift Safari Camps, regardless of their interests in wildlife, birds, leisure, or just a family getaway. You will explore the outdoors at length on thrilling wildlife drives or walking safaris every morning and evening. You can schedule a treatment with one of our licensed spa therapists during the day, and after breakfast, families can participate in a kid-friendly activity. For exclusive group reservations, we also offer specialty safari programs, such as a Yoga & Wellness Safari and a Birding Safari.
Twenty-four dedicated people comprise our small, tight-knit team, which Dawie and Talitha Jansen run. The success of Klaserie Drift Safari Camps results from the team's dedication and each member's unique area of specialty. The culmination of all this expertise provides visitors with a genuine 5-star experience that they won't soon forget.
Contact us today and book an unforgettable safari retreat for your family reunion or anniversary.