April 2021 Sightings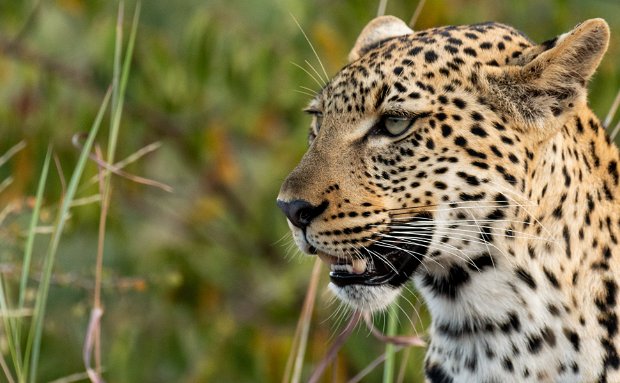 It has been another bumper month for predators at Klaserie Drift! Keep reading to find out which Klaserie characters have been thrilling our guests during the month of April...
What a bumper month of sightings we have had in April! Although in recent months it has been the magnificent River Pride of lions stealing the show, the leopards might have just pipped them this time around, with a strong showing from super-predators the African wild dogs as well. 
Leopards
Starting with our spotted feline friends, the dominant Pale Male has been a regular superstar of late, being sighted alone on the prowl on several occasions, as well as with 2 different females - one unknown and the wonderful Manzi. Most female leopards will take between 16 and 24 months between successive litters, so the timing is right for Manzi to mate. Perhaps we will soon be celebrating another patter of tiny paws! Another young female in the area - slightly more skittish but just as beguiling - has also caused a few hearts to flutter this month, being spotted a couple of times hunting in the late afternoon.
However, there is one leopardess stealing the limelight in every regard of late. Manzi's daughter, now 18 months and practically fully independent, is quickly becoming a firm favourite amongst the guides in the area. Calm yet curious, she has inherited her mother's wonderful temperament as well as her heartbreaking beauty. One particular sighting (out of several) stands out for April. Driving along the road one afternoon, our guide spotted her quietly sitting in the road ahead. Stopping some 50m away to give her plenty of space, the leopardess then defied her species' elusive nature and walked straight up to the vehicle. She studied it for a moment to contemplate why this metal giant was in her way, before deciding to move around the side. Pausing just 2 metres away from our wide-eye guests, she curiously regarded them for an entire minute - so close they could have reached out and touched her. Finally, satisfied we weren't really that interesting, she continued on her way. An absolutely breath-taking encounter that you can watch in action on our social media videos! 
Lions
The River pride have not disappointed either this month. Hosi and Socha have been seen several times in the company of 3 females - one of which may be in oestrus - and were even spotted full-bellied and content with an impressive giraffe kill. As the cubs get older, they seem to be more confident in spending longer periods away from the pride as they seek new mating opportunities. The cubs themselves are still not old enough to hunt and are often left to their own devices by the females as they search for dinner, resulting in several wonderful sightings of the little ones playing and relaxing by themselves. The pride lionesses are working ever harder to feed these growing bellies, turning to the highly distracted impala rams - that are currently rutting - for easy meals. On one such occasion, guide Emily located the pride just after making such an impala kill and our guests spent a thrilling half hour watching them brawl and squabble over the small meal.
African Wild Dogs
Turning to the canine family, the endangered African wild dogs were seen 7 times last month - always a thrilling experience! As diurnal creatures, they are often active, playful and sometimes even hunting when spotted on game drive. The most memorable sighting of the month has to be when guide Nick encountered the pups already feasting on a fresh impala kill, with a second impala close by in the jaws of a crocodile at our local dam. The unlucky antelope had likely swam into the water to escape the dogs, only to land in an equally dire situation. However, the action wasn't over yet as an enormous hippo bull leapt onto the crocodile and stole the carcass for himself, tossing and chomping down on it in what can only be described as a bizarre attempt to feed. Once the wild dogs had finished off their own kill, they watched longingly at the second meal so close, yet so far away.
Best of the Rest
With so much incredible predator action last month, there's almost no room left to discuss the many other wonderful sightings spotted on the reserve. From plentiful towers of giraffe to bellowing impala rams preparing for their moment in the spotlight, the bush has been awash with life. Elephants have begun flocking to the Klaserie river, with the waterholes further afield now long since dried, and we have enjoyed the return of the huge herds of buffalo - one of which was at least 100 individuals strong! Guests have delighted in sightings of cheeky mongooses, black-backed jackal, bushbabies, kilpspringers, zebras, kudus, rhinos, warthogs, baboons, hippos, waterbuck and so much more - and that's just the mammals! The birdlife, as ever, has added a backdrop of colour and music to the bush that it would be a crime to overlook and the reptiles haven't been shy either. Water monitors, chameleons, leopard tortoises and even the odd snake have created many fascinating moments to capture and remember. Overall, more than a year since the beginning of lockdown in South Africa, it is heart-warming to know the animals continue to move forwards unabated. Life in the bush is as spectacular and vibrant as ever!
Words by Emily Whiting. Photos by Emily Whiting and Nicholas Smith.