Ansa Clacey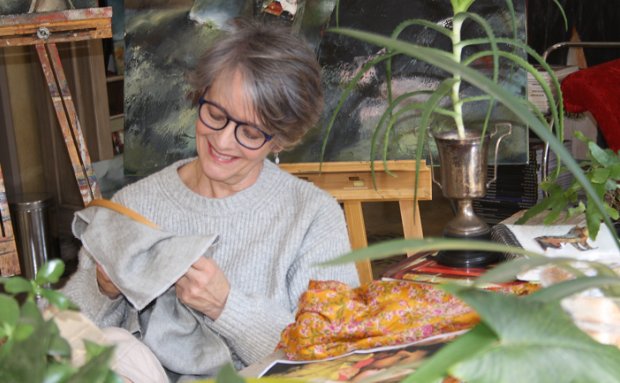 Ansa Clacey is a South African artist who has held several solo exhibitions and participated in numerous group exhibitions in South Africa and abroad. Her work is represented in private and corporate collections. After graduating with a BA(Fine arts) degree from the University of Potchefstroom, she taught art at Rustenburg High School and worked at both the Pretoria Art Museum and SABC TV. In 1984 she completed a diploma in Fashion design and started her own design studio while teaching Textile design and Illustration at two design colleges. In 1994 she had her first solo exhibition and since 2004 worked as a full-time artist from her studio in Johannesburg. 
Her work is a personal journey in recovering the remembrance of past events. Evidence of collected, precious memories takes the viewer into the intimate world of the artist. The interaction between composition, texture and pattern playfully pull the viewer into the present, but then gets pushed to a deeper level to discover a dream-like world of unexpected juxtaposing of elements.
Ansa grew up on a farm where wild animals and birds were nursed back to life. Steenbok, blue crane, barn owl and an egret followed her around until they were ready to go out into the wild. It is therefore no surprise that animals and birds rest comfortably in a 'make believe' domesticity. Stories, ancient and new, feature prominently in her work. She uses embroidery and drawing to weave metaphors and human relations together, which can create a very fragile storytelling process. She often falls back on the ancient art of stitching. It becomes a therapy and transforms, reimagines and knits personal and ancient history into myth and storytelling. They disturb and seduce.
Click on the images below to read about the beautiful stories and folklore that inspired them. All pieces are available for framing and are embroidered on Silk Organza.
CLICK ON THE GALLERY IMAGES AT THE BOTTOM OF THE PAGE TO ENLARGE THE ARTWORK TO ITS CORRECT PROPORTIONS AND VIEW THE INTRICATE DETAILS OF EACH ARTISTS UNIQUE CRAFTMANSHIP.